Founder and Principal Diversity Learning Institute (DLI)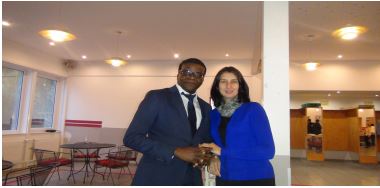 Diversity Learning Institute (DLI Germany), soon to become Central Hamburg University (CHU), was founded in 2010 in the city of Hamburg in Germany.
DLI offers programmes ranging from undergraduate to postgraduate in various faculties, and mainly exists to help underdeveloped nations to access scholarships connected to Germany. The initial purpose of its founding was to offer the German language in underdeveloped countries where a lot of migrants showed interest to visit Germany for various reasons, such as tourism, business, further studies, and marriage. Later on, DLI Germany climbed up another ladder by introducing other programmes like the Education Exchange Programme (EEP), Study in Germany Affordably (SiGA), Professional English for You (PEfY) for Germans and German companies, and more.
In 2015, DLI opened another department called Get Your Way (GYW) – a refugee project which teaches German and intercultural training to refugees. Furthermore, we offer a lot of consultancies to them which include studying and working in Germany, integration issues, etc.
Currently, we have added more programmes which include Cambridge International AS & A Levels, Associate degrees, Undergraduate, Masters and Ph.D. programmes in cooperation with our partner universities in England, Germany, Poland, Ukraine, and the United States of America (USA).
Our main objective is to offer internationally recognised and affordable tertiary education to the underdeveloped nations, with full practical exposure to Germany.
All of the above-mentioned achievements and implementations have been made possible by our team members from different backgrounds and nationalities based in Germany, Zambia, Poland, Ukraine, England, USA, and Ghana.
DLI takes keen interest in social work. We take care of the orphans and the street kids in Africa through our partner, the Twikatane Germany NGO.
We are partnered in the following countries:
Germany:         Headquarters in Hamburg
Ukraine:            Headquarters of Eastern Europe – Kyiv
England:          West Midlands Open College (WMOC) – Walsall
Poland:              Lazarski University – Warsaw
USA:                  Atlantic International University (AIU), Hawaii
Zambia:             Headquarters of Central and Southern Africa – Lusaka
Ghana:              West African Headquarters – Accra
Morocco:         Casablanca, headquarters of all the North African countries and France
Our main objective is to offer internationally recognised and affordable tertiary education to the underdeveloped nations, with full practical exposure to Germany.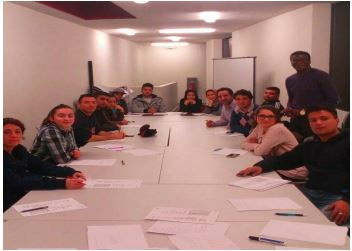 Zambia's huge solution to the needy learners
In Zambia, we are offering scholarship programmes in university foundation course (UFC) – Bachelor, Masters and PhD degrees. The programmes will either be studied in Zambia at our campuses in all the 10 provinces, and in Germany. This will bring together the very poor, middle and higher classes in society to study together affordably. Our project is not about 'who has the money to access the studies', but free for all!
Those studying the degrees will have their internships/practicals in Germany and other DLI partner countries. Why? We need our learners to graduate with the highest technical knowledge and at par with those who studied in such developed nations. This will contribute to building the economies of the underdeveloped nations. Because of the connectivity with Germany, we have introduced German Language in all the provinces of Zambia. Also, we have introduced the Educational Exchange Programme (EEP) between the German schools and those in Zambia and other underdeveloped nations. This brings about the real time and virtual exposure for the two nations. Firstly, the exchanges are done via Skype and later real time visitations. To facilitate the EEP in Zambia, DLI is educating the 'would-be' German language teachers in Germany.
Crafts training centres in Zambia
In every province, we have designed to have a centre for orphans, street kids and youths who cannot be re-absorbed into the mainstream f education. Hence, they will be taught crafts in almost all fields. Some of their products will be sold in Germany and Europe as a whole. Such activities too are intertwined with the German crafts colleges and centres.
Study in Germany Affordaby (SiGA)
SiGA is one of our departments. We are all aware that Germany offers free degrees stretching from bachelor to PhD. This is little known by Zambians and has seen most parents scouting for tens of thousands of dollars to send their children to UK, Canada, Australia, the USA, etc. To complete a bachelor course in the USA one needs at least US$250,000.00 for tuitions only! Yet to complete a similar course in Germany will cost you only between $600.00 (100.00 semester) to $4,500.00 (450 per semester)! Too good to be true! DLI is helping such parents to divert to Germany and save lots of money.
Nursing and teaching services
Germany has got a shortage of over 55, 000 teachers, and thousands of nurses too. DLI is partnering with the German schools to receive attached Zambian teachers to reduce such a gap. Hence, we are setting up the German language classes in Zambia for the teachers.
In the same vein, we are partnering with the health institutions to attach the Zambian nursing personnel.
On behalf of the DLI teams, I appeal to the Zambian authorities to support us by creating an enabling environment from which we can execute our duties and change the lives of many for the betterment of the nation.