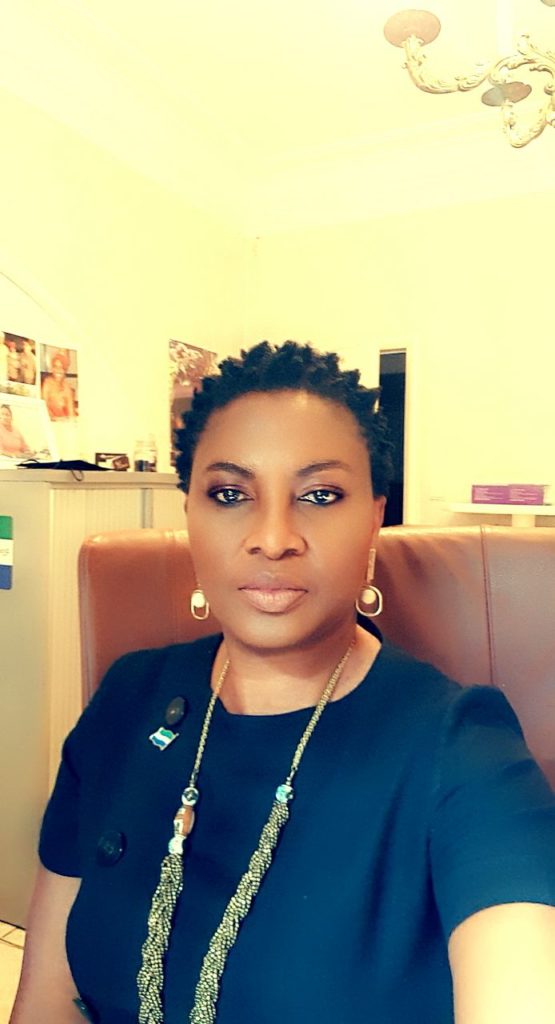 I was born in Zambia moved to Belgium in 1996.  I am a mother of four and grandmother of three cute girls.  I hold Bachelor Degree in Human Resources and another in International Protocol & Diplomacy.
 I have been with the Embassy of Sierra Leone as a locally engaged support staff for the past 16 years.  My 24 years in Belgium has been in the diplomatic environment but that does not make me an expert in anyway.  I have been blessed to serve under several accomplished Ambassadors, who have taught me so much on diplomacy and protocol.  I love my job it is always a learning experience for me.  Each Ambassador brings a vast spectrum of knowledge and I am always happy to learn from them. Diplomacy is a skill and should be embraced as it is.  I don't usually find time to work with African Women but I always create time because it is my passion to help.  With a full time job and a family, I would say it can be impossible to do what one enjoys most, but here I am doing it, so it is doable.  When you have a passion and relate to some of the sufferings of other women, you create time, you place yourself in their positions and completely understand why it is important to go out there and help others.
I was President of the African Women's League Belgium from 2015 to 2018 an Association which:
* Initiates and supports actions that promote equal opportunities for women and men in terms of education, training and access to employment
* Encourages and supports the engagement of African women in politics, their participation at different decision-making levels, their involvement in conflict prevention processes, peace negotiation and reconstruction of African countries
* Creates bridges between the different women's organizations in Africa and in Europe with a view to pooling ideas and experiences in different fields but above all to create synergy in the fight for the promotion and visibility of African women
* Sensitizes women to health problems and some harmful traditional practices and fight against violence against women
* Promotes the socio-professional integration of African women in Europe and particularly Belgium where it is based, with particular attention to young people and African seniors.
"Diplomacy is a skill and should be embraced as it is. I don't usually find time to work with African Women but I always create time because it is my passion to help"
In March of 2017, under my leadership, a delegation of the African Women's League of Belgium for the first time since its inception in 1998 made a trip to Cameroon. The main objective of this trip was to meet their partners, the rural women of Hikoadjom, members of the HISIS association; to see together their plan against poverty, achievements, blockages, sustainable perspectives.
One of the key moments was the celebration of the International Women's Day on March 8, 2017 in Hikoadjom, a village in the Makak District of Central Administrative Region. Meetings with other rural and urban associations for exchanges of good practices are planned.
Furthermore, as Patron of the British and Commonwealth Women's Club for the period 2017 to 2018, We raised funds for Food and Nutrition Foundation. A Foundation helping children with HIV/Aids children in Zambia.  Three Thousand, Seven Hundred Euros (3,700€) was raised during this period.
Inconjunction with Miss Africa Belgium, we worked towards improving the image of African Women through sensitizing the importance of African traditions and Culture.  Each year, we introduced what is called « A Mother's Love, Transmission of African Values »
Coordinator – Helping Hands Initiative Relief aid to International Students of African Origin in Belgium during the Covid-19 Pandemic